What is your Diamond worth?  The value of a diamond is based on the 4 C's.  They include, cut, carat, clarity and color.  Also important is certification. If you have a diamond certified by a major agency such as GIA or AGS,  it will help with your final value.  When it comes to Diamond Jewelry, value is determined by the quality of the diamonds, as well as the age, condition and current popularity of the design.  Jewelry by major well know designers can add value to your piece.
Items we buy include:
Loose Diamonds
Diamond Rings
Diamond Pins and Brooches
Diamond Bracelets
Diamond Necklaces
Certified Diamonds
Estate Diamond Jewelry
Bring your diamond and any other jewelry you wish to sell to our store for a confidential quote.  Please bring along any paperwork you have regarding your jewelry.  While many insurance appraisals do not often reflect current value, they often contain information that will help with our analysis, especially if the appraisal involves GIA or AGS.
Call Now
Email Us
Address
1761 McCulloch Blvd N Ste H Lake
Havasu City, AZ 86403
Hours
Mon – Friday: 10AM – 4PM
Closed On Weekends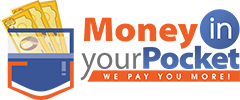 Get the accurate appraisals and top-dollar payouts you deserve.
We are available 5 days a week to give you a free appraisal and get instant cash for your items – it's just that easy!
Whether you have been looking to sell a single item or an entire collection.. or just curious about an item's value, count on Money in Your Pocket™ to help shed light on its true value and give you a fair price for it.
Our process is simple and gets cash in hands as fast as possible. Just top by our store during regular hours or use any of the other convenient methods below to get information.
Visit our store. We are open Monday through Friday from 10am to 4pm. We are located at 1761 McCulloch Blvd N Suite H in Lake Havasu City. We are in the Planet Fitness Shopping Center on the far east side of the building facing Capri.