Bring your coins to Money in Your Pocket™ for a fair and free assessment of their value. We will explain how coins are valued, the importance of condition and grade and present you with a fair offer.  Pick up our FREE KEY DATE coin list for coins that may have increased value!
Items we buy include:
All gold and Silver coins
Rare Cons
Coin Collections
1964 and earlier silver coins
Graded Coins
Ancient Coins
US Paper Currency
Mint and Proof Sets
What are my coins worth?
Gold and Silver coins will always have a great value, even if they are not rate. Coins that were part of a collection can be quite valuable if the collection included key dates that were harder to find. If a coin has been graded buy a recognized grading agency, they deserve a serious look as the collector saw reason to have the coin graded, which is usually to increase the value and integrity of the condition.
Not all coins have value.
Many times you may be given or inherit a bunch of old coins.  They may have been left over form a vacation outside the country or may have a special personal meeting marking a specific date or event. These coins have more sentimental value than actual value.
But don't be to quick to dismiss the value of old coins. Many coins that are older then 1965 are silver coins, worth much more than their face value.
It's easy to find out the value of your coins.  Just bring them into our store and get an immediate offer.
Call Now
Email Us
Address
1761 McCulloch Blvd N Ste H Lake
Havasu City, AZ 86403
Hours
Mon – Friday: 10AM – 4PM
Closed On Weekends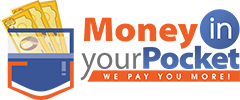 Get the accurate appraisals and top-dollar payouts you deserve.
We are available 5 days a week to give you a free appraisal and get instant cash for your items – it's just that easy!
Whether you have been looking to sell a single item or an entire collection.. or just curious about an item's value, count on Money in Your Pocket™ to help shed light on its true value and give you a fair price for it.
Our process is simple and gets cash in hands as fast as possible. Just top by our store during regular hours or use any of the other convenient methods below to get information.
Visit our store. We are open Monday through Friday from 10am to 4pm. We are located at 1761 McCulloch Blvd N Suite H in Lake Havasu City. We are in the Planet Fitness Shopping Center on the far east side of the building facing Capri.